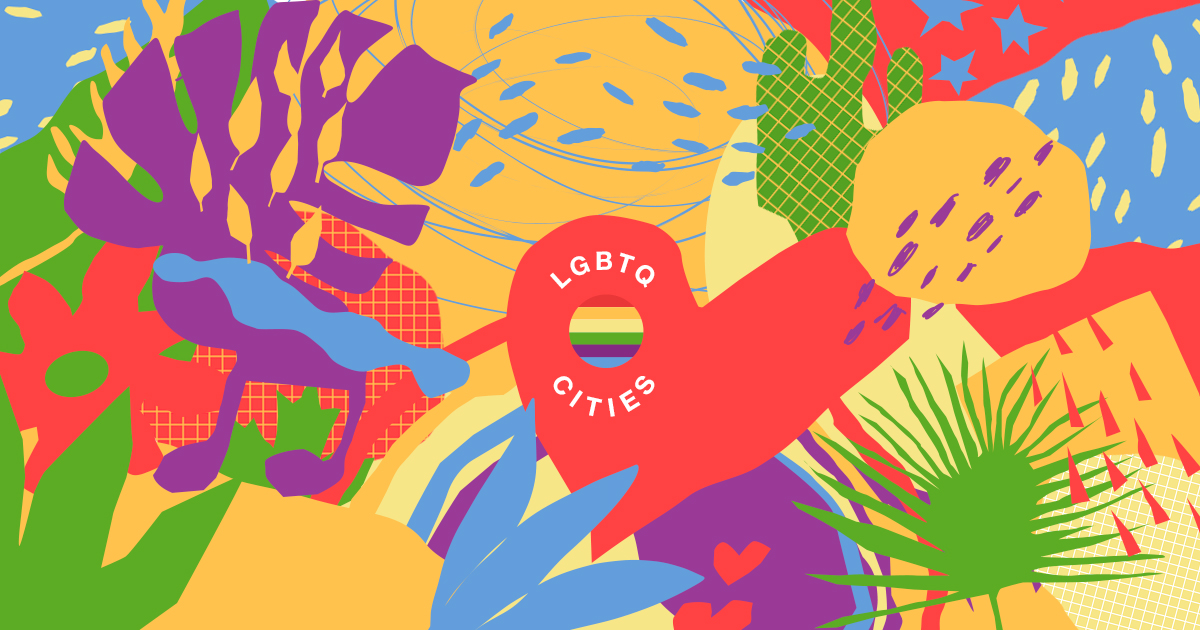 ---
According to SAGE, there will be an estimated 7 million LGBT elders living in the U.S. by 2030. Now more than ever, it's important for gay seniors to have access to safe and welcoming places to visit and settle down.
We scoured the nation (and world!) to find some of the best places for gay retirement and travel. The following LGBT-friendly destinations are open and inclusive. They have progressive legislation, gay-focused and gay-run businesses, and welcoming attitudes. Many of these places also have LGBT retirement options—even more reason to stick around!
Whether you're planning a getaway or looking for a new place to call home, check out these 11 cities:
1. Palm Springs, California
Palm Springs earned its place on the map as a private retreat for celebrities outside of Los Angeles. Celebrities were free to be themselves, away from paparazzi and strict social laws. The city has since become an iconic LGBT playground in the desert. Today, it's perhaps most famous for its pool parties, drag shows, and mid-century shopping.
Play: Get ready for a Palm Springs vacation! Soak up the sun at pool parties by day, and then venture to the gay bars at night. RetroRoom Lounge, which hosts drag shows, features throw-back Hollywood décor. For a more tropical vibe, sip on cocktails at Toucans Tiki Lounge. Hike Coachella Valley Preserve and don't miss the shops along Palm Canyon Drive.
Stay: Stonewall Gardens Assisted Living welcomes LGBT retirees. It's Southern California's first assisted-living village for gay seniors. Though not considered a retirement community, the complex features bungalow-style units.
Mark your calendar: Cinema Diverse: The Palm Springs LGBTQ Film Festivals kicks off on September 19, 2019. Then on November 1, Greater Palm Springs Pride Festival takes over the Coachella Valley.
2. Provincetown, Massachusetts
Provincetown is not new on the gay scene. In fact, gay travelers began making it their summer retreat as early as the 1920s and 30s. The resort town continues to thrive as a safe and welcoming place for LGBTQ travelers. Though summer is the high season, you'll find endless reasons to stick around all-year long.
Play: Start off with happy hour along Commercial Street. And then see why everyone's talking about ShowGirls. Join a bonfire at Herring Cove Beach and chow down on Cape Cod's finest at The Canteen. While you're in town, connect with the Lower Cape LGBT Senior Group. They host social gatherings for the older crowd.
Stay: Between its quirky character and seaside charm, it's easy to see why Provincetown is a popular place to retire. Check out The Residences at Seashore Point, where everyone is welcome. This straight- and gay-friendly condo, in the heart of all the action, is open to the 55+ community.
Mark your calendar: Join the week-long festivities during Provincetown Carnival 2019 this August. Fantasia Fair, a transgender celebration, takes place this October.
3. Stockholm, Sweden
Though Sweden decriminalized homosexuality in 1944, it was still considered a disorder at the time. In protest, Swedes "called in gay" to work to help inspire change. Laws have since updated, and Stockholm has helped pave the way for LGBT acceptance in Europe. Stockholm is an open city where you have an open invitation to visit and make yourself at home.
Play: Stockholm doesn't have a designated gay neighborhood, but you will find LGBT attractions scattered around the city. Get your bearings on an LGBT tour with StandOut Travel and be sure to chat with the locals. Whether you're retiring here or only visiting, sync up with Gay seniors, a 60+ group for gay and bisexual men. For more inspiration and gay-friendly businesses, check out Stockholm LGBT.
Stay: In 2013, Stockholm opened the first LGBT retirement community in Europe. Regnbågen is an apartment complex that provides a safe and friendly place for retirees.
Mark your calendar: Stockholm Pride is the city's pride and joy. Taking place in July and August, it's the largest Pride event in Scandinavia.
4. Guerneville, California
If Guerneville isn't on your radar, it's high time it should be! It has long been a getaway for vacationers from San Francisco, but its first gay resort opened in 1978. This paved the way for more gay businesses to open, earning it an LGBT-friendly vacation reputation.
Play: Guerneville is home to the only gay bars in Sonoma County: Rainbow Cattle Company and The Bar at R3 Hotel. The Rainbow Cattle's roots date back to 1979, making it a staple of the Russian River area. During your stay, hike among the giant trees in Armstrong Redwoods State Natural Reserve. And don't miss the Guerneville Flea Market each Saturday, where you're sure to find some treasures.
Stay: Fountaingrove Lodge is one of the nation's first LGBT independent senior communities with continuing care. Set on a 10-acre campus, the retirement community is located in nearby Santa Rosa. Guerneville is also home to the West County Community Services. They provide support for local seniors.
Mark your calendar: Sonoma County Pride is a must-experience celebration. Next year, it's on June 5-7, 2020, at the Old Courthouse Square in downtown Santa Rosa, the heart of Sonoma County.
5. Minneapolis, Minnesota
Minneapolis has an extensive history of leadership in the LGBT space. In 1975, it became the first U.S. city to include transgender people in its civil rights ordinance. Later in 1993, the state was the first to ban employment discrimination based on gender identity and sexual orientation. What's more, Minnesota has one of the highest percentages of adults identifying as LGBT in the nation. Come join them!
Play: The Gay 90s is a legendary bar for drag shows. Meanwhile Bryant-Lake Bowl is an ever-popular gay-friendly bar, theater, and bowling alley. Check out the Mill City Museum (carved out of the old flour mill ruins) and search for the famous Bob Dylan murals near the Meet Minneapolis Visitor Center. While you're here, pick up a copy of Lavender Magazine, the city's GLBT-focused magazine.
Stay: Spirit on Lake is an affordable housing complex for the aging LGBT population. When it first opened in 2013, it was only the second of its kind. Minneapolis has countless other independent and assisted housing options, too.
Mark your calendar: Twice the cities, twice the pride! This year's Twin Cities Pride festival is taking place June 22-23.
6. Toronto, Canada
Prior to the 1970s, Toronto's gay scene was mostly underground. Today, gay culture is loud and proud in this part of Ontario. Toronto is home to Gay Village, Canada's largest gay community. It also features Queer West Village, an artsy LGBT-friendly area, and Old Cabbagetown. Looking for the best of LGBT-friendly vacation destinations? Add Toronto to your list!
Play: Begin your adventures in the Church and Wellesley village. Out on the Street is a three-story gay department store, while Glad Day Bookshop is the world's longest surviving LGBTQ bookstore. Grab a bite to eat from Fabarnak or stroll through the St. Lawrence Market. After venturing around the city, you'll see for yourself why it's a prime place to settle down.
Stay: Toronto is a huge proponent of housing programs and healthcare for LGBT seniors. The Senior Pride Network and The 519 are two local organizations that offer support for the LGBT community. As for retirement options, The Fudger House provides long-term care for gay seniors.
Mark your calendar: Pride Toronto is one of the world's largest pride festivals! Don't miss Pride weekend, June 21-23. Inside Out is another must-see event, which is the largest LGBT film fest in Canada.
7. Eureka Springs, Arkansas
Eureka Springs is called the Gay Capital of the Ozarks for good reason! It was the first Arkansas city to endorse marriage equality. You may come for the arts and nature, but you'll want to stay for the welcoming community.
Play: Eureka Springs is a funky little art colony set in a Victorian village. Indulge in the various art galleries, from The Birdcage to Zarks Gallery. Spend time exploring the picturesque Ozark scenery and searching for the famous springs. Downtown has more bars per capita than anywhere in the state, so you're sure to find a place for a cold one. The Rowdy Beaver Den and Henri's Just One More are popular watering holes.
Stay: Though Eureka Springs doesn't have any LGBT retirement options, property is affordable. Once you see the quaint cottages lining this small town, you'll want to move right in.
Mark your calendar: Out in Eureka hosts Diversity Weekends and gay pride events throughout the year. Check out Summer Diversity 2019 in early August.
8. Wilton Manors, Florida
When compared to its overall population, Wilton Manors has one of the highest percentage of gay couples in the nation. It also recently became the second city in the nation to operate under an all-gay City Commission. To top it off, Wilton Manors has a notably high senior population, so you'll fit right in!
Play: Wilton Manors is the center of Fort Lauderdale's gay scene. You'll find no shortage of nightlife, from karaoke at Georgie's Alibi Monkey Bar to the dive bar scene at Mona's. During your stay, pay a visit to the Stonewall Gallery National Museum and Archives. Spend a sunny afternoon kayaking Middle River Circle or exploring Colohatchee Park.
Stay: In 2020, Wilton Manors is opening The Residences at Equality Park. The low-income housing development is geared toward LGBT seniors. Wilton Manors is also home to Pride Center Florida and SAGE (Senior Action in Gay Environment).
Mark your calendar: Wilton Manors is celebrating the 20th anniversary of its Stonewall Festival and Parade. The events will take place on June 15, 2019.
9. Austin, Texas
Beyond Austin's live music scene and barbecue joints, you'll find a welcoming LGBT community. The capital's LGBT movement gained momentum in 1970 after the Stonewall riots. By 1974, the capital established the Gay People of Austin and Austin Lesbian Organization. Even if you're just planning a getaway here, you may wind up putting down roots in this Texas town.
Play: When it comes to finding the best things to do in Austin, allow the Austin LGBT Chamber of Commerce to guide you. The commerce is dedicated to showcasing gay-friendly and gay-run businesses. While you're here, belly up to Oilcan Harry's, the longest operating gay bar in town. And kayak along Lady Bird Lake and dig into a plate of ribs at La Barbecue. As for meeting new people, consider joining the Prime Timers Austin, a social group for gay older men.
Stay: Austin doesn't have retirement options geared toward LGBT seniors. However, the city has organizations focused on LGBT seniors. The Austin LGBT Coalition on Aging and the Austin LGBT Task Elder Force help make Austin a good place to grow old. Atticus Circle and Equality Texas are headquartered in the city, too.
Mark your calendar: Austin Pride is taking over the city on August 10, 2019. Other events to look out for include aGLIFF in the fall and OUTsider Festival in the winter.
10. New York City, New York
No LGBT vacation or retirement list is complete without the one and only New York City. It's long been a champion of the gay community, from the gay bars of the Bowery in the 1890s to the Stonewall riots in 1969. The city encourages you to be you, however that may look. Whether you plan to visit or decide to stay long term, you're sure to find your niche in NYC.
Play: NYC has its fair share of LGBTQ historic sites, from Stonewall Inn to the LGBTQ Memorial. Visit the Leslie-Lohman Museum, which is the world's first museum dedicated to LGBTQ artwork. And attend a legendary drag performance at Lips. With so much to see and do in this eclectic hub, you'll barely scratch the surface unless you stay awhile.
Stay: This summer, Brooklyn is opening Ingersoll Senior Residences. It's the city's first affordable LGBT-friendly senior housing development. Next year, another development will open in the Bronx. NYC also has several SAGE Center locations, which provide resources for LGBT seniors.
Mark your calendar: This year marks the 50th anniversary of the Stonewall riots. Join the Stonewall 50 Commemoration Rally on June 28. Stick around for the New York City Pride March on June 30.
11. Puerto Vallarta, Mexico
Come discover why they call Puerto Vallarta the Gay Beach Capital of Mexico! Its gay roots date back to the 1980s when expats began building gay businesses in the area. Then in 2016, the state of Jalisco legalized same-sex marriage. The beach town continues to thrive as an LGBT destination, becoming a favorite among tourists and retirees alike.
Play: Zona Romantica is the gay neighborhood, but join an LGBT-specific tour to find out more about the area. Stake a spot down at Playa de los Muertos and stop in one of the many gay bars when you get thirsty. There are tons of attractions in Puerto Vallarta. Between exploring Isla del Rio Cuale and nearby Vallarta Botanical Gardens, you'll soon realize the allure of this coastal hot spot.
Stay: There aren't any LGBT retirement home options, but it's very welcoming to gay retirees. Many expats enjoy the city for its affordable living and easy access to healthcare.
Mark your calendar: Puerto Vallarta Gay Pride is a week-long celebration that takes place each May. Festivities include parades, cultural events, parades, and more!