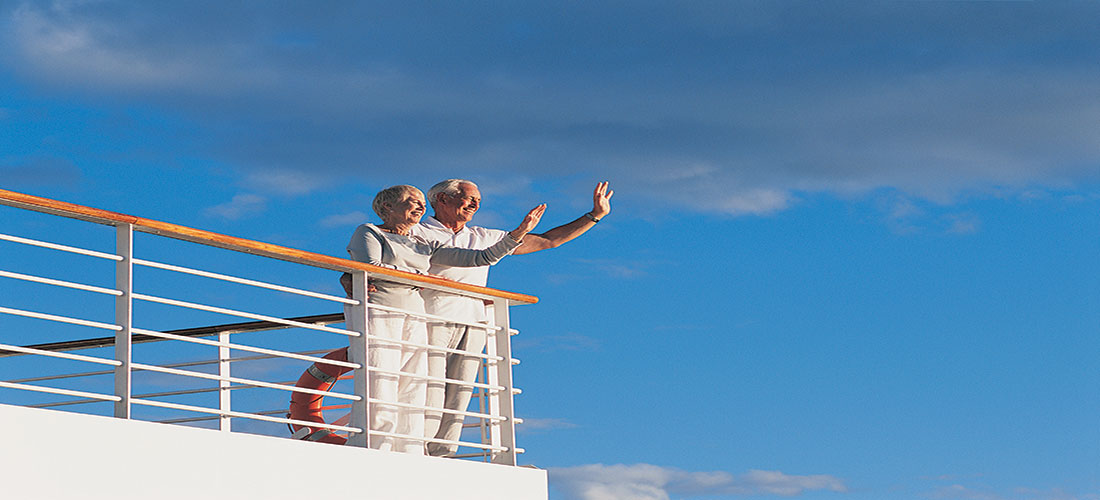 Cruising is the perfect vacation for "seniors" since it looks after so many travel logistics, from accommodations and meals, entertainment and activities, to pampering service. The biggest bonus is seeing different places without having to live out of a suitcase, sitting on coaches and staying at a different hotel every night. In short, cruising lets you see the world in superior comfort and style.  In this article we are going to break down the best cruise lines and the best destinations for those living in their golden years.
Best Cruise Lines for Seniors
Today there are countless ocean and river cruise lines plying the waterways of the world. All cruise lines provide identical services – transportation, accommodations, meals, entertainment, and activities. Where they differ are the level of liveliness, areas of specialty, and inclusiveness.
So what are the best cruise lines for seniors? Well, it depends on what your interests are. Here are our top picks:
1. Best for entertainment and activities
For seniors who are active and young at heart, these cruise lines will not disappoint.
Known worldwide for their fun onboard experience, Carnival Cruise Line ships will keep your days occupied with fitness classes, spa treatments, art auctions, bingo, trivia, pool and deck games, and nights filled with stage shows, comedic acts, deck parties, casino games, and dancing. You're guaranteed not to run out of things to do!
Operating some of the largest amenity-filled ships, Royal Caribbean leaves no stone unturned when it comes to entertainment and activity options. The cruise line is famous for its full-length Broadway shows such as Hairspray, Mamma Mia, Cats, and Grease, as well as water acrobatics and ice shows. Its newest vessels are outfitted with surfing and sky-diving simulators, zip lines, observation pods, rock climbing walls,and extensive pools and water slides.
2. Best for gastronomy
The following contenders offer culinary quality and variety that will satisfy the fussiest taste buds.
Boasting over 20 dining venues on many of its ships, your appetite will be well satisfied every day onboard a Norwegian Cruise Line voyage. Choose from international and continental cuisine in the main restaurant, buffet, pool grills, and casual eateries. And for something different, try Asian specialties including Teppanyaki and sushi, Brazilian steakhouse, Italian, French, Mexican, seafood, American diner, and even Texas Barbecue. 
In partnership with celebrity chef Jacques Pépin, Oceania Cruises takes cruise cuisine up a notch. In addition to the main dining room, four specialty restaurants featuring steaks, Asian, Italian, and French cuisine invite guests to indulge in a culinary journey. Special dinners include Wine Spectator and Dom Pérignon experiences. Take in cooking demonstrations and classes onboard, and chef-led culinary excursions ashore. Oceania also recently introduced a full line of plant-based menus onboard its fleet.
River cruising also provides a terrific culinary experience, as regional cuisine sourced from the freshest local ingredients are served throughout the voyage. Every meal is accompanied by a terrific selection of local wines and beers. Think Bavarian ales along the Rhine, exceptional vintages on the Bordeaux, and fine ports on the Douro.
3. Best for destination immersion
These two cruise lines offer guests a chance to explore the far reaches of the world.
An Azamara cruise includes visits to off-the-beaten-path ports and excursions that delve deeply into local history and culture. Highlights include late and overnight stays that allow you to linger and take in the atmosphere long after other ships have departed, and an AzAmazing Evening excursion that takes you to an exclusive locale for a private touring experience. Azamara also features country-intensive itineraries such as Japan, Croatia, Iceland, New Zealand, and more.
Holland America offers the Exploration Central (EXC) program through multimedia presentations and lectures, unique shore excursions, photography lessons, and even a "port to table" culinary experience all designed to deepen your understanding of the places you visit. The 1200-guest Maasdam is the cruise line's meandering globetrotter, bringing guests to exotic destinations with a team of field experts onboard, and zodiac boats for close-up encounters.
4. Best for education and personal enrichment
If you're looking for extra learning experiences, these cruise lines offer a tremendous choice for all interests.
Cunard offers a wealth of enrichment through the Cunard Insights program. A rotating roster of experts includes personalities in broadcasting, filmmakers, historians, authors and more, conducting lectures, Q&A sessions and mingling with guests during the cruise. Fascinating topics range from politics, art history, and astronomy, to oceanography, forensic medicine, intelligence and espionage. Cunard also has an artist in residence, and the onboard library boasts thousands of volumes and reference materials. A collection of themed cruises focusing on a variety of interests is also scheduled every year.
Called "A Thinking Person's Cruise", a voyage onboard Viking Ocean Cruises is inspiring and educational. In addition to guest lecturers, Viking also employs resident historians onboard to enhance your experience through small group and one-on-one interactions. It also has its own cooking school where you can learn to master your skills and hunt for local ingredients with the chef ashore. Additional partners for onboard programming include TED Talks, the Met Opera, the Oslo Munch Museum, and more.
5. The Best of the Best
For seniors looking for the ultimate pampering vacation, where the accommodations, service, and cuisine are second to none, consider a luxury, all-inclusive cruise line, where your ticket includes lavish suite accommodations, fine dining, premium beverages, and crew gratuities.
Operating ocean, river, yachting, and coming soon – expedition cruising, Crystal Cruises has been voted "World's Best" by the readers of Conde Nast Traveler and Travel & Leisure 25 years in a row. Crystal excels in intuitive yet unobtrusive service, with a high crew-to-guest ratio.
The only cruise line to include airfare, transfers, and unlimited shore excursions at every port, Regent Seven Seas ranks as the most inclusive of the luxury lines. Cruises departing from outside of North America also include business class airfare.
Champagne and caviar flow freely onboard Seabourn's intimate yachts, carrying no more than 600 guests. Seabourn sails to all seven continents, enhanced with partnerships such as master chef Thomas Keller, wellness guru Dr. Andrew Weil, and lyricist Sir Tim Rice, to curate the onboard cuisine and programming.
Slightly more formal than the others, Silversea sails to over 900 destinations worldwide. Highlights of a Silversea cruise experience include butler service in every suite and a selection of fine dining restaurants. Silversea also offers luxury expeditions to the Galapagos, Arctic, and Antarctica.
Best cruise destinations for seniors
Here are the top 5 cruise destinations that we feel are perfectly suited for seniors.
1. Cruises to the Sun
For Seniors who are snowbirds, cruises to warm places are always a winner. The Caribbean remains the most popular of all sun destinations. On the Pacific side, cruises to the Mexican Riviera make for a great getaway. Or take a cruise through the Panama Canal, or sail to the Hawaiian Islands.
2. European River Cruising
Imagine exploring some of Europe's most iconic cities along the banks of scenic rivers, while enjoying regional cuisine, wines, and local hospitality. River ships dock in the heart of the cities and villages, allowing for easy sightseeing and exploration. Complimentary tours showcase the highlights of each town, with ample free time to wander and explore on your own. Each evening, return to your river vessel to enjoy a gourmet cooked-to-order meal and wake up to the next wonderful city. River cruises are convenient, comfortable, and much easier than any coach tour!
3. Cruises to Asia
Cruising is a great way to travel to Asia, as your floating resort transports you from country to country, without the need to travel through foreign airports or fuss with language issues. The exotic locales and cultures – from China and Japan to Thailand, Cambodia, Malaysia, and Indonesia – can be experienced on a multi-week holiday, as most ships move throughout the region during the entire season.
4. Expedition Cruising
Expedition cruising appeals to seniors because these voyages are on small, intimate ships of less than 300 guests, and present a wealth of learning opportunity and discovery in otherwise unreachable lands. Whether it's a journey to the Polar region, the deep Amazon, or the biodiverse Galapagos, expedition cruising brings you up close and personal with the sights, flora, and fauna of the remote regions. It's a great combination of soft adventure and personal enrichment, and well-appointed vessels ensure your journey to the ends of the earth without sacrificing on comfort and amenities.
5. World Cruises
For those who have the time, a world cruise or extended voyage is a perfect way to cross off your must-see destinations on one trip. Typically 100+ days in length, world cruises depart every January and circumnavigate the globe, some hitting every continent. Extended voyages typically range from 30-60 days, visiting a specific region such as circumnavigation of South America or Australia, are also available.
I hope you find this guide useful and now you feel ready to choose your next cruise destination. Whether you're travelling with you partner, family, friends or solo, there's a cruise line out there that will cater to your travel needs.
Discover your next cruise today!
Ming Tappin
Your Cruise Coach