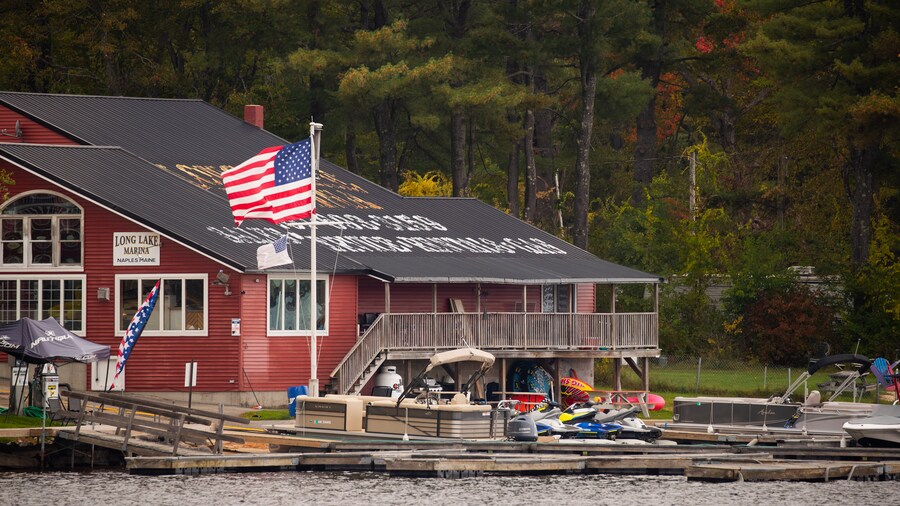 Check prices on hotels in Bridgton
Featured Bridgton Hotels with Balconies
Noble House Inn
81 Highland Road, Bridgton, ME
4.8/5
Exceptional! (45 reviews)
"Amazing B&B in a beautiful location in Bridgton, Me close to downtown and Highland lake. Breakfast was amazing both days, unique, well done AND healthy! Highly recommend the Noble House for your next visit to the lakes region of Maine."
Reviewed on Jun 22, 2021
Noble House Inn
The Old Saco Inn
125 Old Saco Lane, RT. 5, Fryeburg, ME
4.8/5
Exceptional! (139 reviews)
"We absolutely loved the Old Saco Inn! We have traveled a lot and this place is up there amongst some of our favourite places we have ever stayed. We stayed at the Inn for 4 nights and skied at Shawnee Peak which was around 10-15mins away. Bruce and John (and Izzy the dog!) were lovely and such great ..."
Reviewed on Mar 20, 2021
The Old Saco Inn
Kings Hill Inn
56 King Hill Rd, South Paris, ME
4.6/5
Exceptional! (50 reviews)
Innkeepers are nice
"Overall it is suitable accommodation. The inn is very outdated in terms of furniture, carpeting, wallpaper, etc. Breakfast was served hot but not a lot of choices. Parking is ample and its a very safe arra."
Reviewed on Oct 23, 2017
Kings Hill Inn
Lowest nightly price found within the past 24 hours based on a 1 night stay for 2 adults. Prices and availability subject to change. Additional terms may apply.
Hotels with Balconies
Hotels with Balconies in Bridgton
Like your getaways to come with a view? There's one way to ensure you really take in the sights and sounds of your destination on your trip—book Bridgton hotels with a balcony and start every day of your stay the right way.
Picture this for your next vacation: Spending your mornings absorbing the local views from one of the best hotels in Bridgton with a balcony, cup of coffee in hand, in pure relaxation mode. It's the best way to begin exploring before you even leave your room. And after a long day of adventures in sightseeing in Bridgton, you can kick back and lounge the evening away at your hotel with a private balcony. All while saving a pretty penny, because you booked your stay with AARP Travel.
Whether you're looking for sweet and simple hotels in Bridgton with a balcony or something more extravagant and luxurious that features sweeping views of the area, you can find your fit and enhance your trip. Your ultimate getaway in Bridgton could even include picturesque sunrises or sunsets, views of the stars, or just the opportunity to immerse yourself in the local culture of the area.
Book Hotels with Balcony Rooms
If the idea of hotels with balconies sounds like a win for your trip to Bridgton, booking a great room couldn't be easier or more affordable. When you use the AARP Travel Center Powered by Expedia to find your hotel with a balcony, you'll not only get members-only discounts, you also get the added bonus of finding the best deals on your stay in Bridgton with Expedia. All you have to do is decide which of the Bridgton hotels with a balcony works best for your getaway, then book with AARP Travel and get the top travel discounts around. Views included.