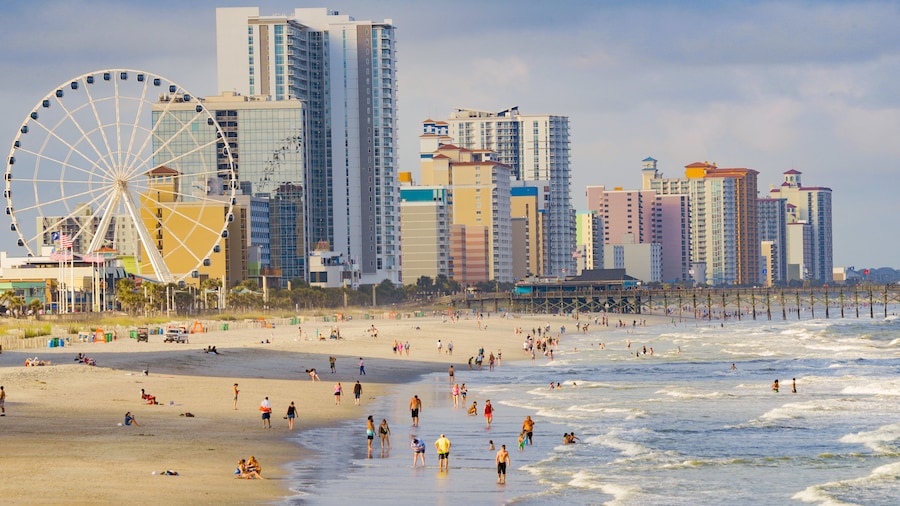 Top Myrtle Beach Car Rental Deals
Don't see what you're looking for?
See all car rentals in Myrtle Beach
View all cars
Rental Car Guide in Myrtle Beach
Once you've finally arrived in town, you'll be ready to leap into the sights, sounds, and flavors of the city. Renting a car can help save you time by not waiting for a taxi or navigating confusing bus routes. Make sure your trip begins with a sense of liberty and autonomy by snagging the vehicle you want at a marvelous discounted rate through AARP Expedia Travel. Myrtle Beach is waiting for you.
Explore the sights of Myrtle Beach
You're going to be glad you rented a car while traveling to Myrtle Beach. You may want to upgrade to a full-size or SUV for your clubs on this vacation, as there are four golf courses less than 10 miles away from Myrtle Beach. Grab your best driver and hit up courses like Whispering Pines, Myrtlewood Golf Club, River Oaks Golf Plantation, and World Tour Golf Links.
It's easy to find your preferred car. Sort by:
Price: On a strict budget? No problem; we have rates beginning at
Rental company: Choose from around suppliers like Enterprise, Hertz, and more
Car type: Ride comfortably in a full-sized sedan or go for extra room for you and your friends with a SUV. Select from almost any vehicle type
AARP Exclusives: We have special, members-only rates on some the most popular vehicle types
Getting the rental car you want and saving money while doing it has never been easier.
Reserve your vehicle
Renting a car in Myrtle Beach lets you visit every destination you've eagerly anticipated. You can accelerate the fun during your vacation with a turn of the key and step on the gas pedal. Whether you want a sports car where you can lower the top and your inhibitions, or you need something plenty of space like a SUV, you'll get a great deal on your Myrtle Beach car rental when you go with the AARP Travel Center powered by Expedia®. Your AARP Discounted Rate will have you returning home with more money in your wallet and more memories to last a lifetime. Book your vehicle today and enjoy all Myrtle Beach has to offer on your own schedule.